About the Program
The Team Profitability Program is a unique, industry-first business analysis program for real estate teams. It is designed to give teams clarity on their finances and business operations in order to measure and improve profitability. The 12-month intensive program led by Certified Profitability Consultants is based on The Profit Centre's proven Profitability Business Model:
Real estate team success is often defined by transaction volume alone; however, the return on volume (profit) is a much better indicator of the health of your business. The Profit Centre defines a "Premier" Team as one that achieves greater profitability than the average of their peers. Do you know where your team stands on profitability? Contact us to find out.
Program Components
The main components of the Team Profitability Program are as follows:
BUSINESS PLANNING

The foundation of the Program is the business planning process which helps you set manageable goals and budgets, define your profitability roadmap, develop strategies and execute action plans. It includes:


A Tracking System to easily track transactions and expenses to ensure clarity of operations.
Financial Reports that offer an at-a-glance review of profitability and cash flow, e.g GCI Report and Source of Business Report.
Optional Self-Serve Lessons on how to work 'on' your business, know your numbers and create strategies to achieve your goals.

Sample Source of Business Report
Sample 'Edit Transaction' Tracking System Screen
Sample GCI Report
Sample Profitability Roadmap

TEAM PROFIT ANALYSIS

At the heart of the Program is the Team Profit Analysis - a thorough evaluation of the financial health and operations of your team. The first analysis is conducted at the beginning of the Program and the second analysis is done at the end to measure your progress.

The output of the Team Profit Analysis is a comprehensive Profit Analysis Report that identifies:

the most important metrics of your team.
the profitability of your team as a whole as well as its individual members.
how your metrics compare with the average of your peers and best practices.

THE PROFIT CENTRE MEMBER PORTAL

The Profit Centre Member Portal is an easy-to-use desktop and mobile application with essential tools and resources to support your learning and development throughout the Program. It can be used to help define goals, track activities, and monitor analytics.




Each team member will receive their own Profit Centre account with 24/7 access to be used in conjunction with the coaching or on its own. Your dedicated Profitability Consultant will guide you through it to ensure you maximize its benefits.

12x PROFITABILITY CONSULTANT CALLS

A Certified Profitability Consultant will call you 12 times throughout the program to assist with business planning and to help keep you accountable to your goals:

Four Business Planning calls to help you establish team goals and action plans that need to be executed throughout the year.
Eight Coaching calls

to keep you accountable to your operational goals, executing your strategies, tracking your results and analyzing your operational reports.

What You Measure Gets Improved
Our favourite saying at The Profit Centre is "what you measure gets improved." Many teams struggle because they don't have the means of proper measurement nor can they properly budget for expenses or forecast profit due to all the data subjectivity. By normalizing the data, the Team Profitability Program brings clarity and insight to your business and helps identify areas of challenge and opportunity. Knowing how you compare to peer data helps you see the potential of your operation and with the guidance of your Certified Profitability Consultant, create strategies that are meaningful and quantifiable.
Program Pricing
Please contact us to discuss.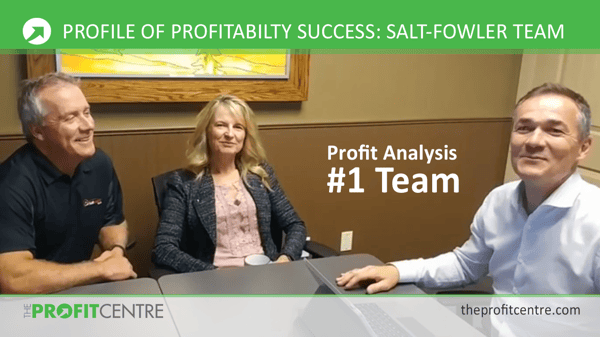 "Let's make this your most profitable year yet!"
PETER MUELLER, THE PROFIT CENTRE FOUNDER